Erin P. Benjamin, D.O.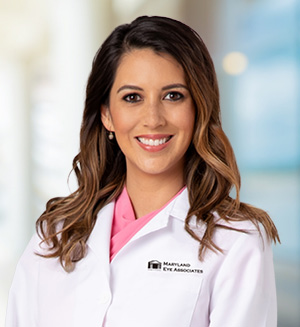 Dr. Erin P. Benjamin is a licensed, board-certified ophthalmologist at Maryland Eye Associates. She specializes in pediatric ophthalmology, strabismus and general ophthalmology, including micro-incision cataract surgery. In addition, Dr. Benjamin is trained to diagnose and treat a wide variety of other eye conditions including glaucoma, dry eye and ocular infections.
Dr. Benjamin completed her medical school training at Philadelphia College of Osteopathic Medicine and her ophthalmology residency through Michigan State University at Hillsdale Community Health Center. After residency, Dr. Benjamin completed a fellowship in pediatric ophthalmology and strabismus at Akron Children's Hospital. As a medical student, she traveled to Africa and India to work with patients. In 2020, Dr. Benjamin completed her fellowship with the American Osteopathic College of Ophthalmology.
Raised in South Jersey, Dr. Benjamin is excited to return to the mid-Atlantic to provide patients in Maryland with the newest advancements in pediatric and general eye care.
EDUCATION
Akron Children's Hospital, Akron, OH, Fellowship in Pediatric Ophthalmology and Strabismus
Michigan State University, Hillsdale Community Health Center, Hillsdale, MI, Ophthalmology Residency
Philadelphia College of Osteopathic Medicine, Philadelphia, PA, D.O.
Franklin & Marshall College, Lancaster, PA, B.A. in Neuroscience
PROFESSIONAL MEMBERSHIPS
American Academy of Ophthalmology
American Academy of Pediatric Ophthalmology and Strabismus
American Osteopathic Colleges of Ophthalmology and Otolaryngology-Head and Neck Surgery
American Osteopathic Association